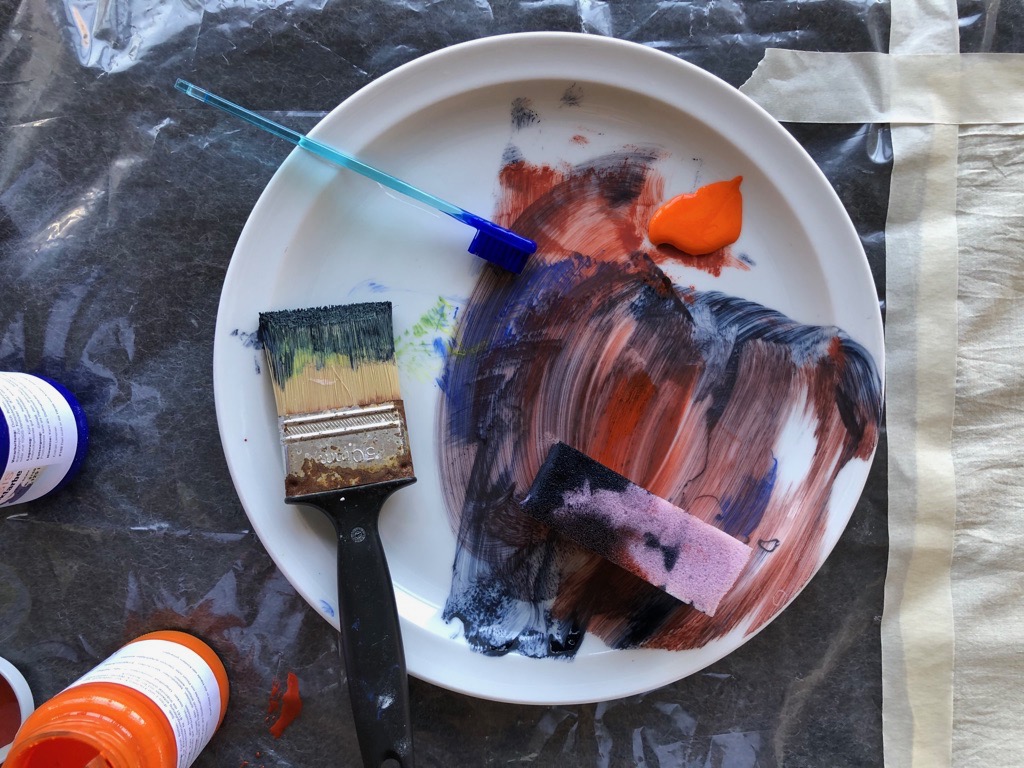 GLORIOUS GLARUS - (Pandemic) Printing through Time and Space
GLORIOUS GLARUS is a workshop format designed to unlock the transformative powers of historical textile archives.
In 1840, the 24-year-old Conrad Blumer, owner of a cotton printing factory in Schwanden, Switzerland, left for an exploratory trip to the Orient and returned 16 month later with lots of market insight and fabric swatches.
Back home, the colors and patterns Blumer collected on his route to then called Alexandria, Bombay, Calcutta and Batavia influenced the look and feel of his hand printed goods. Through trial and error and by experimenting with new techniques Blumer managed to successfully recreate and reinvent the detailed Indiennes and batik patterns and exported these design hybrids back to the colonies as fringed scarves, patterned head ties or fabric for traditional dress.
During an experimental block printing weekend at an industrial site in Glarus in 2020 I wanted to investigate what the elaborately carved wood blocks, depicting partial motives from all over the world, could reveal about themselves (or us) during an analog printing session. Would we gain or produce knowledge on the origins of taste, colonial entanglements, international trade, the concept of glocalization? What else could the power of  repetitive and meditative bodywork unlock? As the workshop venue was closed for Covid restrictions, what was originally conceived as a physical communal experience now had to make room for a pandemic plan B:
We printed with the unwanted and rejected icons of our everyday life in Marie Kondo style via Zoom instead. In line with the textile tradition of the canton of Glarus, the participants prepared their own domestic mark making devices in preparation of a two hour session. From Glarus, to Zürich, to the world (wide web) and back.
WHEN:
Friday afternoon May 15th, 2020 from 15:00 – 17:30
WHERE:
At our individual homes
WHY:
The medieval byzantine painters believed their icons to be inspirited by the saints they represented. Maybe the same applies to your icons of everyday life? Let's find out together!
HOW:
We will be connected via Zoom. Not much talking, mainly music (the Great Explorer's playlist by Massfiles.net)
WHO:
Due to shipping restrictions this workshop is unfortunately only open to people in and around Zürich
HOW MUCH:
A donation of  CHF50  - CHF100 is recommended. All profits will be donated to COVID-19 relief funds for artists
WHAT WE PROVIDE:
Each of the participants will receive a postal package with a large cutting of naturally dyed cotton fabric, paper for tests as well as inks and tools for printing by Monday May 11th
WHAT YOU NEED:
A table (or floor space) / a soft wool blanket or towels you can fold and use as padding / time to declutter your household in order to collect printing devices
SOCIAL MEDIA:
https://www.instagram.com/p/B_wxrg2AB0h/
............................................
A project in collaboration with the Department of Cultural Analysis ZHdK, 2020